Maple Cassidy UDX OM1 RAE RM JH
DOB: June 24, 2009
Breeder: Mike and Kim Schnider
Sire: MK's Benelli
Dam: MK's Tripin Timber
Click here for complete pedigree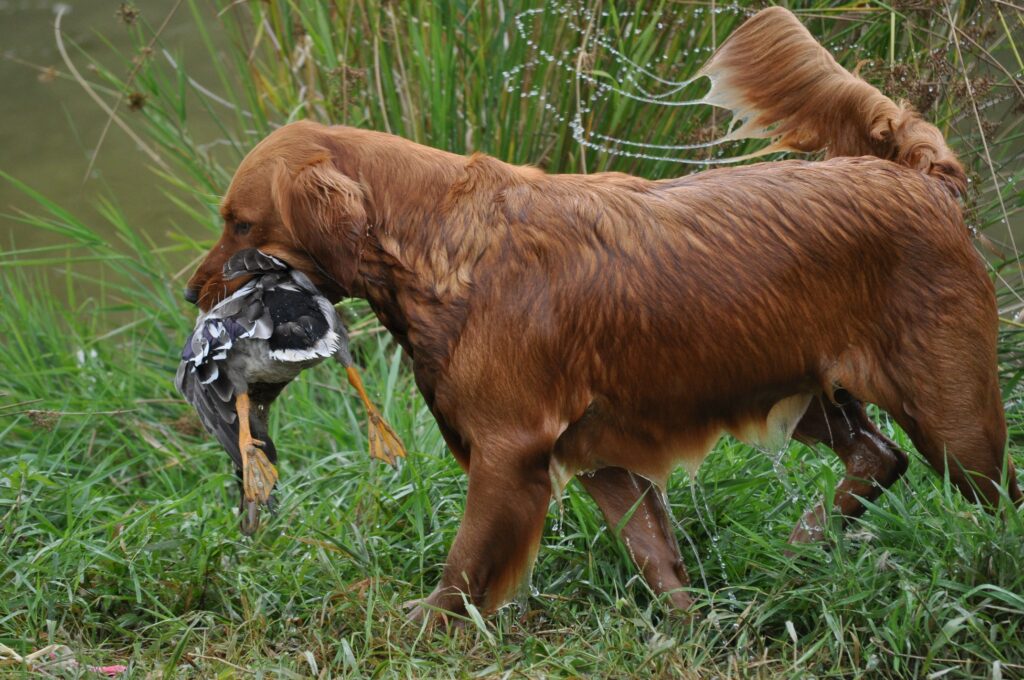 Maple's Story
Maple was my first Golden Retriever. She was quite a change from my prior Standard Poodles! She loves to train, is smart, and has quick reflexes and great balance for a dog her size. For a Golden, she is unusually short (19.5″). All her "shortness" is in her legs. She has the body of a big dog. She is like a golden crossed with a corgi.
Maple has an Achilles heel: She hates riding in a vehicle and being away from home. I could never figure out how to reduce her travel stress. She never drools or gets car-sick, but pants non-stop from the moment she gets into a vehicle until she gets out. Ultimately, it damaged her obedience career, but, in a round-about way, led me into hunt training.
Maple was not introduced to gunfire or retrieving birds until she was over 2 years old. She liked hunt training so much that I took a break from obedience training for a year or two to try hunt training in the hopes that riding in a vehicle to a place where she could swim and retrieve would improve her attitude towards traveling. It did not, but I was introduced to the weird world of keeping stinky ducks in the freezer and of giant dead duck slingshots.
Maple's Accomplishments
Obedience
Maple was my first UD and first UDX dog. She was my first dog to get a High in Trial and a High Combined. I had hopes of putting an OTCH (Obedience Trial Championship) on her, but traveling was never easy for her. She is a Golden and tried her best, but she often did not feel good away from home.
At 8 years old, she had 35 OTCH points (of the 100 needed). The jumping, always a challenge with her short legs, was getting harder for her. I retired her from obedience.
Since her retirement from regular obedience, I have been showing Maple periodically in Rally at shows that are not too far from home. At the beginning of 2020, she was close to her RACH (Rally Championship). In January 2020, she had soft-cell sarcoma removed, followed by radiation. We may attempt to complete that goal if she stays healthy, but it is not a serious pursuit. She will be 11 years old in June 2020. I am simply hoping she is around for a few more years.
Hunt Tests
Maple was the first dog I tried to train for retriever tests. She took to retrieving like a natural. I made a million mistakes with her trying to teach her to do blinds (following directions to a bird the dog has not seen fall). She took it all with good humor, but between her travel anxiety and my bumbling novice mistakes, she did not get past her JH (Junior Hunter) title in AKC.