Pinyon Cassidy UD OM1 RM JH
DOB: March 28, 2016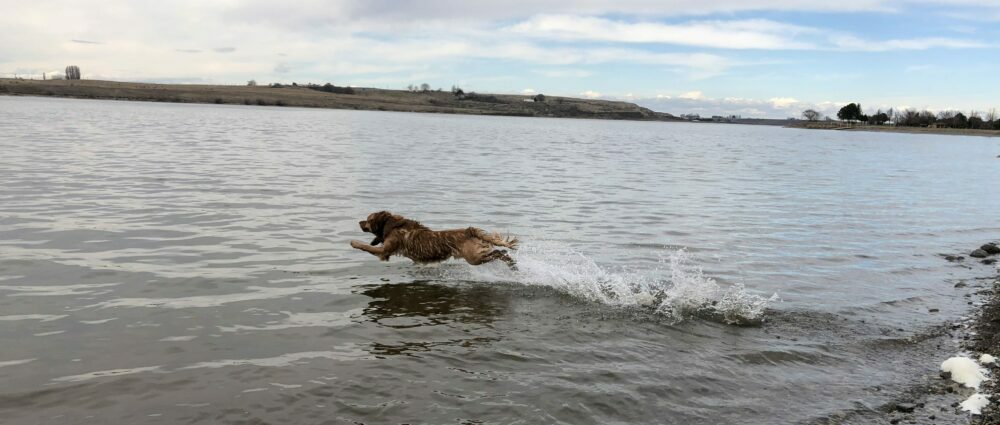 Breeder: Stonefly Retrievers, Larry Thompson and Jody Eller
Sire: HRCH UH HighRoller Marshall Matt Dillon OS CCA WCX MH72 ** MNR HTHR Master National Finalist 2013, 2016
Dam: HR Stonefly White Wulff SH
Click here for complete pedigree and health clearances

Pinyon's story
I was not seriously looking for another dog when I ran across the ad for Pinyon's litter in the Retriever Training Forum. The pedigree was a strong field/hunt test pedigree with some high-level obedience titles thrown in. The breeders lived close by in Oregon. I put out a tentative feeler. I was still showing Maple, trying to pick up OTCH points and didn't need a puppy. I'm sure Larry was ready to stop answering my emails because of the number of times I changed my mind. I finally made the commitment and sent a deposit. Larry and I made plans for Larry to drop off the pup on a trip he was planning to Idaho. Pinyon was the last puppy in the litter.
A couple of days before the pup was due to arrive I was at an obedience trial with Maple in Coeur d'Alene. I got an urgent email from Larry asking me to call him right away.
The news was bad. Pinyon had been in a pen outside. With all of his siblings gone to their new homes, he was lonely. He climbed out of his pen and approached Larry's male dog (who was not Pinyon's sire) who was chewing on a bone at the time. The adult dog snapped at Pinyon and nailed him on the nose. Pinyon's soft palate and gums had to be sewn back together and reattached to the bone.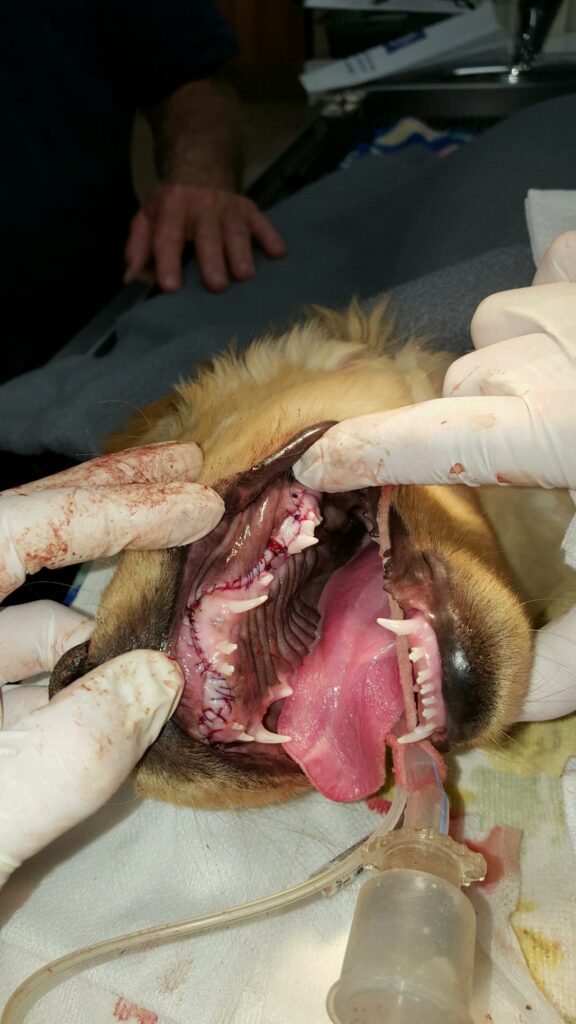 Larry sent me the photo taken by the vet who did the surgery. He asked me if I still wanted the puppy. I told him I had to think about it. I sent the photo to the soft-tissue specialists at the Washington State Vet School. They were extremely pessimistic. They believed there was a very good chance the growth plates were damaged or that scar tissue would block the puppy's breathing passages. Worst case scenario was that he might have to be put down.
I wanted a dog that was a good OTCH prospect. Among other things, an OTCH (Obedience Trial Championship) requires that the dog be able to do scent discrimination, i.e., chose an object scented by the handler from among a group of objects scented by someone else. There was a good chance Pinyon's turbinates-the fine matrix of bone in a dog's nose that supports membranes with scent receptors-would not develop normally. If I wanted to do any kind of retriever tests, there was a good chance his breathing would not be good enough to do water retrieves.
After the WSU opinion, I emailed Larry that I did not want to take the puppy. I slept on that decision. I was very sad. Although I had been initially unsure about getting a puppy, after I had decided to go for it, I was more and more looking forward to having a puppy in the house. After some pondering, it occured to me that the WSU vets, because they are a vet school, usually see the worst cases that cannot be handled by normal vets. I thought maybe I should talk to a few other vets outside of WSU. (I knew I was engaging in a bit of vet shopping, looking for a vet that would say what I wanted to hear.) The consensus of the vets I spoke to was that they really could not make a prediction because of the puppy's young age. There was no way to know how the bones would develop.
So…. I changed my mind. Again. I contacted Larry and told him I would take the puppy after all. For someone with my goals, it was a bad decision. But, everyone loves an underdog, right?
Larry and Jody delayed their trip by a week to let the puppy recover from surgery. He arrived on June 6, 2016. My first thought (which I did not tell Larry and Jody) when I saw Pinyon for the first time was "Oh, no. Not only does he have a damaged nose, he is not the right color!" I like deep red Goldens with dark eyes. Pinyon was a medium yellow color with amber eyes. Oh, well, no backing out now, I thought.
Pinyon's first few weeks were trying! Because of his stitches, he was not supposed to chew anything. Have you ever tried to keep a 10-week old puppy from chewing? His nose developed abnormally. The right side did not grow as fast as his left. His undamaged jaw grew normally but the top of his mouth does not match the bottom. I had a CT scan of his nose taken when he was a year old. It shows that the right nasal passage is nearly blocked and the right turbinates are undeveloped. He breathes mostly through the left side of his nose.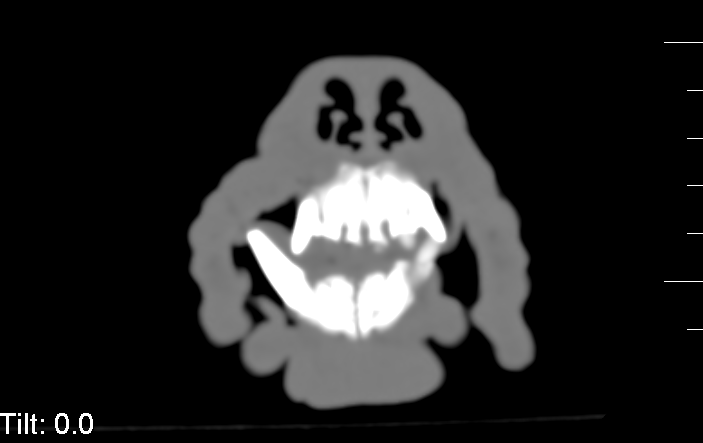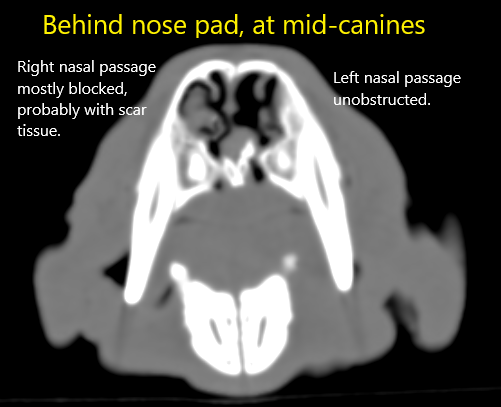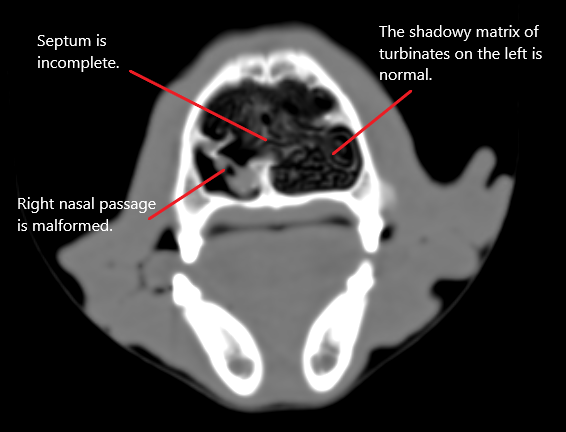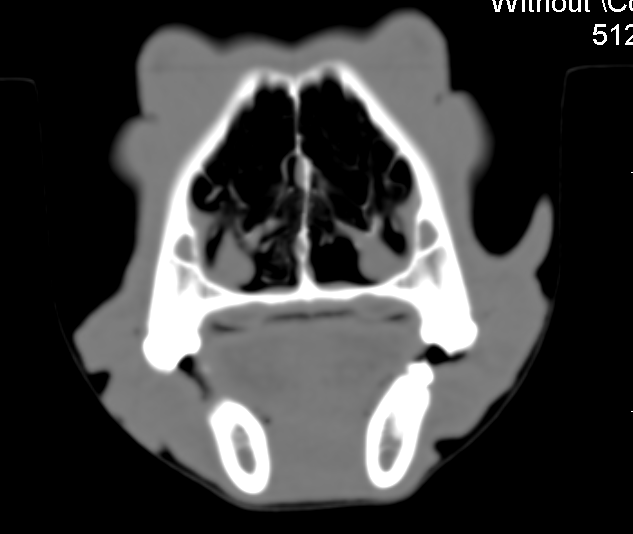 Because of Pinyon's malformed bite, he often looks like he is snarling on the right side because his lower right canine sticks out and holds his upper lip up. His permanent sneer does not match his personality! He is a gentle, submissive, soft boy.
Within a week of getting Pinyon, he had captured our hearts. He is the most happy-go-lucky dog you can imagine. He is full of joy. As for his color and his amber eyes? He developed a coppery medium-red outer coat with cream-colored flashy feathering. I love his color and I love his amber eyes. Which just goes to prove that old saying that your favorite dog color is the color of your favorite dog.
Pinyon's accomplishments
My primary focus with Pinyon is training for competitive obedience. Pinyon has the talent. The big question is whether I am a good enough trainer to bring out his best.
Obedience
Pinyon finished his CD (the Novice Obedience title) shortly before he turned 2 years old and his CDX (the Open Obedience title) soon after the turned 2. He got a High in Trial the first time I showed him in Open. I began showing him in Utility when he was 2.5 years, a little too early for him.
2019: Pinyon finished his utility title a couple weeks after he turned 3 years old, with a High In Trial from Open B and High Combined. I took a bit of break from Obedience after he got his title, mostly training to improve his confidence and precision. I showed him at a few trials in fall 2019, where he picked up four more UDX legs. At the end of 2019, he had five UDX legs and 16 OTCH points.
2020: Well, 2020 was not a year that went as anyone planned! I showed Pinyon early in 2020 at a couple of weekend trials before everything was cancelled. Late in the year, the Coeur d'Alene Dog Fanciers managed to pull off a trial with lots of masks and social distancing. Pinyon ended 2020 with eight UDX legs and 36 OTCH points. He finished his OM1 title.
2021: As of January 2021, I am looking forward to the Spokane Dog Training Club trial in February, during which we will all be waiting in the parking lot for our turn to show. I am even more looking forward to the day I receive my COVID vaccine and we can put all this behind us!
Rally
Pinyon has his Rally Master title and a couple of Rally triple Qs towards his RACH (Rally championship), but I will probably not show him again in Rally until he has achieved a few more obedience goals.
Hunt Tests
Pinyon tries to remind us every day that he is a golden RETRIEVER, with emphasis on the RETRIEVER. His passion is retrieving his bumpers. All. Day. Long. Like many goldens and labs, he would retrieve until he collapsed from exhaustion or heat stroke if we let him.
Like most amateur trainers, I have little access to good training grounds, which makes hunt training extremely time consuming. Because Pinyon loves it so much, I make the 2.5-hour drive up to a dog training area near Medical Lake when I can in the spring and the late fall. He has his JH (Junior Hunter) title in AKC and 3 legs (of 4 needed) for his SH (Senior Hunter) title. I will try to get his last Senior title leg in spring 2020 and, if I can get enough training in between Obedience work, I might enter him in a Master test.
In NAHRA, he has his SR (Started Retriever) title and one leg of his HR (Hunter Retriever) title.